One of the most powerful saying of Swami Vivekananda for our present day teachers "He is a true teacher who can go down to the level of his students, can transfer his soul with that of his students, can see through his eyes and hear through his ears."
For nearly a decade, we have been working to fulfill our objectives. Through this vision, we have trained a number of teachers to carry on our mission with them. Needless to say, our efforts have already been realized by a number of schools in Orissa. We are planning to cover almost all the schools to imbibe our mission in the coming days ahead.
About the Director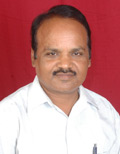 A staunch crusader of Indian values, the contribution of Laxman Panda to the academic development of the public schools in Odisha bears ample testimony to his untiring efforts. His relentless pursuit has brought in a sea change in the educational system in the Saraswati Sishu Mandirs in Odisha. Moreover, his creative and pragmatic measures for the overall growth in the mental ability of the small children have remained an eye opener for the CBSE and ICSE course curriculum. To say the least, several schools have adopted his innovative policy measures to ensure the academic excellence of their children.
With his solo efforts, Panda, in a span of 12 years, has trained over 5000 teachers for public schools in and outside Odisha.
Apart from this, Panda is also a well-known litterateur. In recognition to his literary genius, he has been working as the secretary of Odisha Writers' Forum for a decade. Most of the patriotic songs written by him have been awarded by the Doordarshan and All India Radio.
Laxman Panda.
Aminent Educationist,
Chairman/Course Director